Known as "the water lady," 50-year-old Darlene Arviso delivers clean water five days a week to 10 to 12 homes surrounding Thoreau, New Mexico. Using water from an on-site well at the St. Bonaventure Indian Mission, Arviso loads up the truck with 3,500 gallons of water, travels 75 miles and

brings clean water to more than 250 families a month

on the Reservation.
Nearly 40% of the estimated 173,000 Navajo tribe members living on the Reservation don't have a tap or a toilet in their home. According to the U.S. Geological Survey, the average American in the United States uses 80-100 gallons of water a day; whereas, Navajo families use 7 gallons a day to drink, cook, bathe and clean. The 300 gallons of water each household receives from Arviso — the amount an average American uses in three days — must last a month.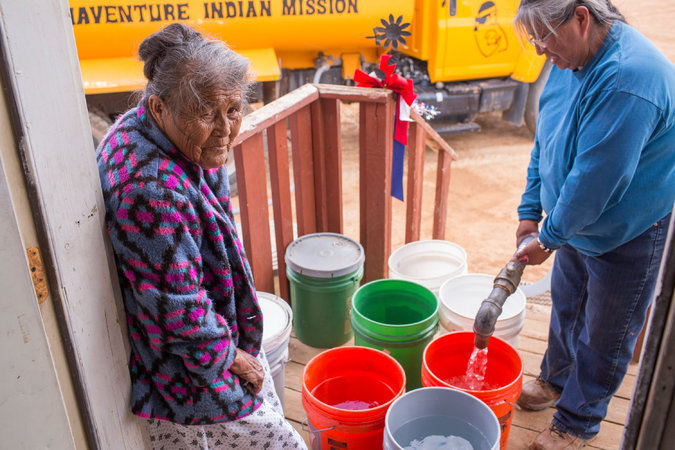 The people who live in the northwest corner of New Mexico consider Arviso to be a living saint, writes NPR. When people see her giant yellow truck coming down the road, Navajo resident Georgianna Johnson told NPR, "it's as if they've seen Santa coming down the chimney."
"You know what we do? 'The water truck's coming! Get the buckets ready!' We get all happy.
Today's the day I'm going to take a bath
… Water's got to do with everything. It really does. To wash the dishes, my aunt tells us the rinsing water is still clean. Use that the next time when you gonna wash dishes. So that's how we make the water stretch."
They call her the water lady, but she is much more than that. Sometimes, she gets calls asking for other essentials: food, blankets, lamp oil, or wood. Sometimes, she prays with them if they are facing hardship. Sometimes, she becomes their best friend, hears them out and makes them laugh.
The residents are forced to live without clean running water on the Navajo Nation because the majority of water sources on the Reservation are contaminated, thanks to decades of uranium mining and multiyear drought.

DIGDEEP

, a global organization that provides water systems to developing countries, has partnered with St. Bonaventure Indian Mission to bring water to the Navajo Nation. George McGraw, DIGDEEP's founder and executive director, told CBS News:
DIGDEEP has been working with the St. Bonaventure Indian Mission to build a $500,000 well and a water filtration plant, helping Arviso with a reliable supply of water throughout the year, to refill her truck quickly and reach more families. But the project, being funded exclusively off donations, will take time, and so the Navajo Nation still needs its water lady. "

If I'm not here, who's going to bring these people their water?"

Arviso told The New York Times. "Right now, I'm all they've got."
Thanks for taking the time to read this article. If you found this information helpful, please share it with your friends and family. Your support in our endeavor of sharing free information would be much appreciated.